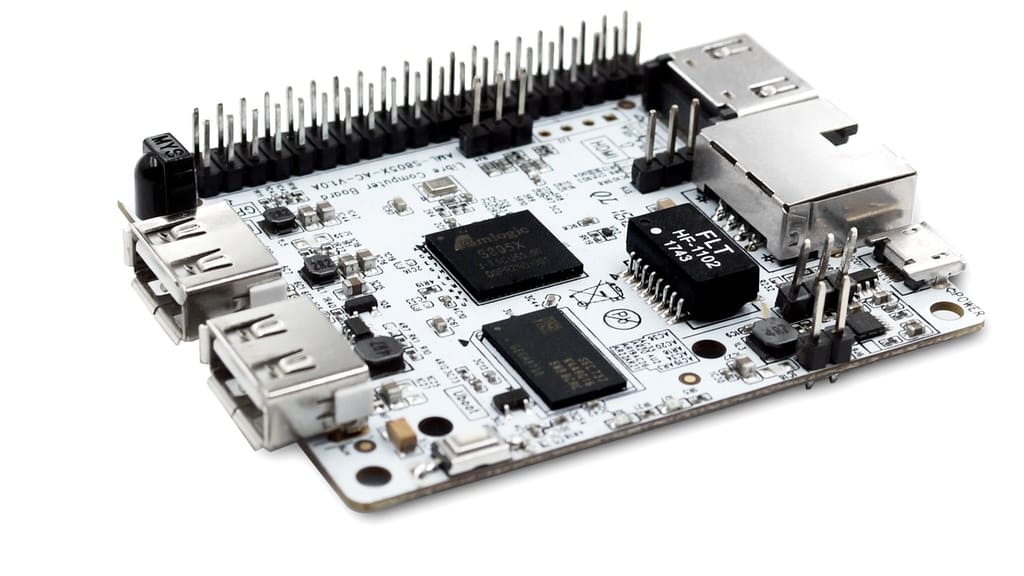 Posted on 2017-06-26
AML-S905X-CC Geekbench 4 Performance Numbers vs Raspberry Pi 3 and Asus Tinker Board
[caption id="attachment_205" align="alignnone" width="853"]
Libre Computer Board AML-S905X-CC[/caption]
[caption id="attachment_224" align="alignnone" width="853"]
Asus Tinker Board[/caption]
[caption id="attachment_218" align="alignnone" width="855"]
Raspberry Pi 3 Model B[/caption]
Since we got our boards back from manufacturing, we have been hammering at it in our labs with tests and benchmarks. The benchmark numbers above can provide a rough estimate of the performance numbers we expect to see.
All of the benchmark numbers were done in a controlled environment in a case with a 20mm 5V fan. While the Raspberry Pi 3 Model B and our board ran consistently without a fan, the ASUS Tinker Board created a lot of heat and required a fan to get consistent numbers.
The ASUS Tinkerboard maxed out at 2.1A. The high current draw created a 0.7V voltage drop between the MicroUSB pin and the 5V rail. This is the largest delta that we have ever seen and we had to increase the DC supply voltage to 5.25 in order to keep the 5V rail above 4.5V.
Renderscript Performance
ASUS Tinkerboard: 1450 Libre Computer Board AML-S905X-CC: 1150 Raspberry Pi 3 Model B: N/A

;