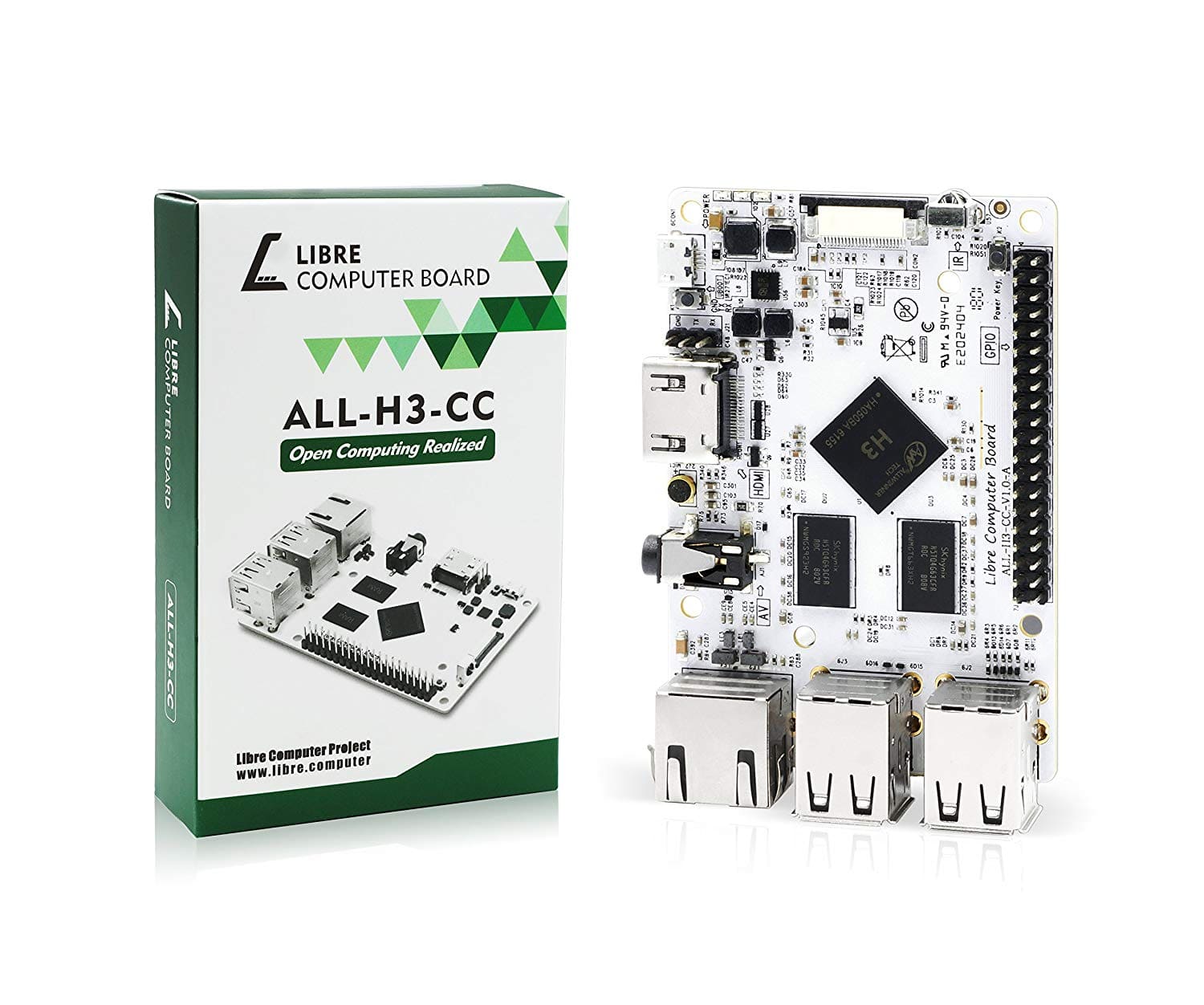 Posted on 2019-02-07
Linux 4.19 LTS Images for Tritium
Happy Chinese New Year! 2019 is the year of the pig and we are pigging out with quite a few new images for the H2+, H3, and H5 variants of Tritium. You can find Tritium on Amazon.
Major Improvements
Linux 4.19 LTS

CPU Frequency Scaling
Thermal Support
HDMI CEC and DRM Support
30% Performance Improvement

u-boot 2019.01

Video Output support
USB Keyboard Support
USB Mass Storage support
EFI Support

Userspace

Desktop Images Autologin as default
GL4ES integration
armhf OpenGL ES support for legacy applications
Headless armhf Userspace images

Image Variants
EFI Support
We are moving towards having standardize boot by supporting EFI. Like Le Potato, Tritium does not have onboard SPI NOR to hold u-boot, so the images must have the bootloader still in the image. However, the bootloading process is using the EFI facilities and you will now have a EFI-based GRUB GUI that lets you control boot parameters where as it was hard coded before.
This allows you to have second operating systems on attached USB devices and booting to them through GRUB's normal detection method. When we release the 18.04.2 images for Le Potato, they will be using these same facilities. There are bugs with the GRUB-ARM-EFI 32-bit packages in Debian and Ubuntu Xenial that prevents us from generating working images for Tritium H2+/H3. We hope the packages gets updated so we can push out those images as soon as they work.
Unified Kernel for ARM64
We are well on our way to having a unified Linux kernel for all of our ARM64 boards. ALL-H3-CC H2+/H3 variants will not share this since they are 32-bit armhf but all of our other platforms including Le Potato, La Frite, Renegade, Renegade Elite, and future 64-bit boards will share a single kernel in the future.
Distro makers are working towards this as well but they are not as familiar with this space as we are. By our estimates, it will be 2022 before their unified Linux kernel work will match or exceed our internal efforts.
30% Performance Improvement
With the new thermal code and frequency scaling, we have individually tuned performance in these images for the different Tritium boards. After the dysmal performance results from the last Phoronix review due to lack of frequency scaling and thermal support, you should see much improved performance at load and lower power while idle. The new performance numbers can be found at the latest results using Phoronix Test Suite. For best performance from your board, we highly recommend a heatsink and active cooling case because the chips can use up to five watts at full load. You can find appropriate ones through our distributors or on Amazon.
Shoutout to Sunxi Community
Today, Tritium is by far the most FOSS platform we have. Nearly everything from the bootloader to the video decoder has been reverse engineered. Unlike Le Potato and La Frite, Tritium support comes nearly entirely from the sunxi community around Allwinner SoCs. These community members contribute valuable time to upstream support for chip features in Linux and u-boot. They hang out in IRC and are one of the most active and helpful communities. Without them, it would not be possible to release these upstream images today.
Next Up
We have La Frite launching at the end of February and we are sorting out our business there. La Frite will be the first board to boot standard EFI images without bootloader. We are working on Renegade and Renegade Elite in parallel and hope to deliver our standard upstream images in March for those platforms. Both Renegade boards suffer from legacy-u-boot-syndrome from the SoC vendors not bothering to do upstream. Our message to these SoC vendors is: you are going to miss out on a lot of opportunities.

The images are located on the ALL-H3-CC product page under the Download tab.

;